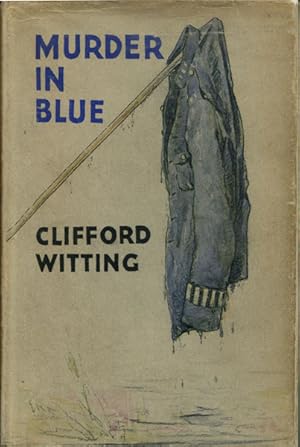 Murder in Blue
, published in 1937 by Hodder & Stoughton, was the first detective novel of Clifford Witting. It was an auspicious debut, proclaimed by Hodder as "a first-class detective story...about the murder of a policeman". It's interesting to compare the first edition of this book with first editions written by debut authors today. Now, readers are always presented with information about the author. Publishers are keen, almost to the point of obsession sometimes, to focus on an author's "platform", i.e. the means by which, it's thought, he or she can attract readers. It was very different in 1937. We are not told a word about Witting.
So who was he? I don't possess a lot of biographical information but I do know that Clifford Witting (1907-68) was educated at Eltham College and worked for many years for Lloyds Bank. He enjoyed a long career as a crime novelist, spanning 27 years, but was much less prolific than many others who started during the Golden Age. In that time he published sixteen novels. Quite possibly, like Cyril Hare for instance, his day job reduced his literary output. But lack of productivity is no bad thing if it is matched by a corresponding increase in quality. He wrote accomplished traditional mysteries and in 1958 he was elected to membership of the Detection Club, a sign of the esteem in which he was held by fellow practitioners.
Nick Fuller writes about Witting on the excellent gadetection site, and asks why he is so obscure, given the engrossing nature of his stories. It's a good question. I missed out on Witting for many years and it was only because of the advocacy of Nigel Moss, an excellent judge, that I sampled him. I'm glad I did, because all the books of his that I've read have merit.
Narrated by a likeable bookseller, John Rutherford, and set in a thinly disguised Sussex,
Murder in Blue
introduced Detective Inspector Charlton, who was to become a series character. There's more focus on characterisation and setting than you find in, say, most of the Freeman Wills Crofts books, and definitely more humour. Witting was witty! The story begins extremely well thanks to Witting's smooth narrative style, although I felt it sagged in the later stages. Overall, however, a decent start to a career of under-valued accomplishment.