This week sees the long-awaited (well, by me, anyway) publication in the UK of Howdunit under the legendary Collins Crime Club imprint. (Publication in the US will follow before long.) Howdunit is the latest book by members of the Detection Club, following in a tradition that dates back to the early 1930s. But never before have so many members contributed to a single volume - almost every living member has taken part, including some who have not published for quite a while, including Jonathan Gash, Lord Denham, Baroness Cohen (aka Janet Neel) and June Thomson. And there are also pieces by many distinguished members of the past, ranging from Agatha Christie to P.D. James.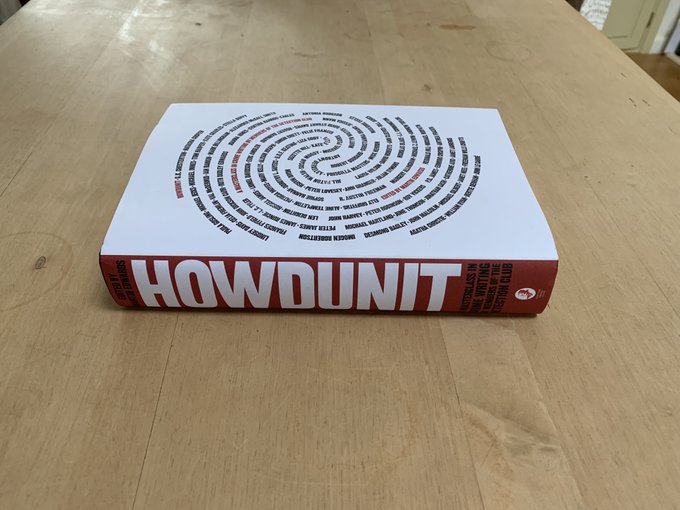 Howdunit is a book about the art and craft (or graft!) of crime writing. It will, we believe, be a big help to people who want to write crime fiction themselves. But at least as importantly, it gives a unique insight into the writing life. Or rather, dozens of personal insights. Leading writers talk frankly about the ups and downs of a literary career, with topics such as 'imposter syndrome' and writer's block covered, as well as the strange things that can happen when your book is adapted for the screen.
As President of the Club, I conceived and edited the book, and I wrote the short sections that link all the contributions. In addition, there are ninety contributions from members. The idea was to celebrate the ninetieth birthday of this splendid and unique social network. The book also celebrates the fiftieth anniversary of Len Deighton's election to membership of the Club, and is dedicated to him. Len has also contributed a brand new essay about his own stellar writing career. It's a great shame that we can't have a launch or any of the other events that I had in mind at the time the book was compiled last year, but perhaps we can make up for this to some extent next year.
In the meantime, I hope that this unusual book will appeal to people fascinated by crime writing, whether or not they fancy producing a novel of their own. It really was a joy to receive all the manuscripts - most of the material was specially written for this volume - and great fun to find suitabel ways of welding in existing pieces by the likes of Christie, Christianna Brand, Margery Allingham, Edmund Crispin, and others. And the publishers have done a lovely job of production. I'm thrilled to see it on my bookshelf at last!